About Calibration
Calibration helps to ensure temperature monitoring equipment maintains the highest level of accuracy. Over time, all monitoring devices, even those that are calibrated, will experience drift, causing the sensors to display inaccurate temperature readings. To ensure your thermometer or data logger is reporting the proper temperature, it must be re-calibrated every two years. You can send the device, along with its probe, to our ISO/IEC 17025:2017 accredited laboratory, where our team will re-calibrate to NIST standards and send it back with a new certificate for your facility's records.
Re-Calibration Form
To have your Accucold device re-calibrated in our ISO accredited facilities, download and complete this form, then send it back to our laboratory with the equipment and payment.
Watch: How To Remove the Probe
This tutorial will walk you through the process of how to disconnect your temperature monitoring device in order to have the probe re-calibrated to NIST standards.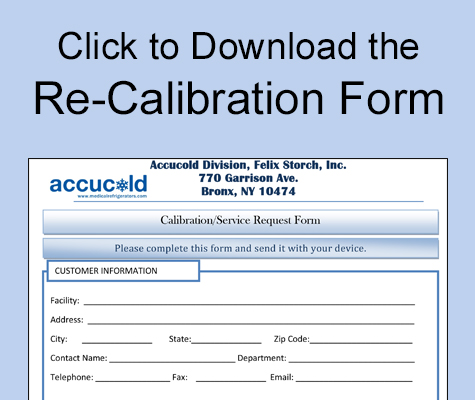 Temperature Monitoring Equipment