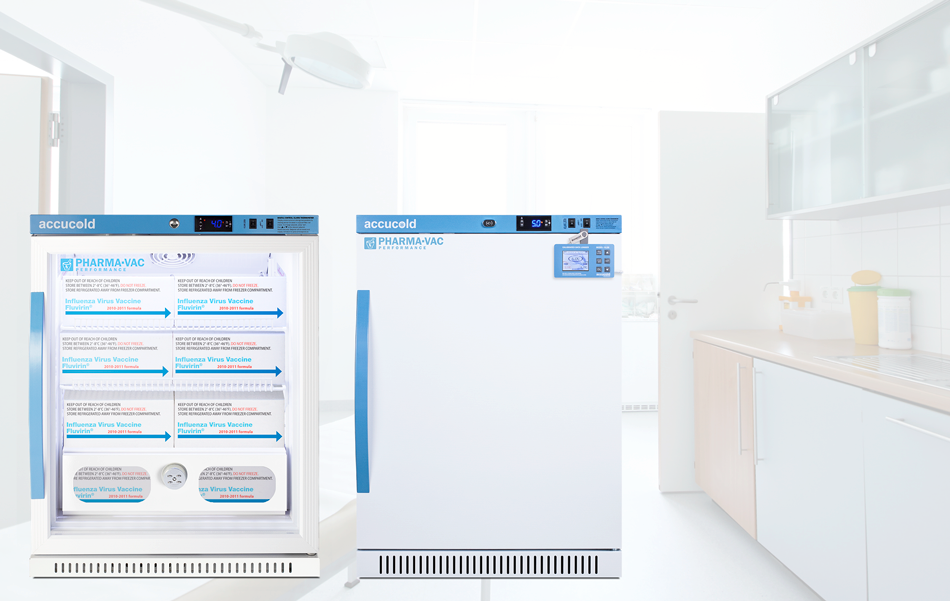 Get the Most From Your Medical Unit
Accucold refrigerators and freezers are specially designed for improved temperature uniformity, but for optimum performance, it's important for users to take certain key measures in using their units.
Placement
When it comes to positioning your equipment, space matters. Refrigerators are generally designed for built-in (zero clearance) installation, or for freestanding use with several inches of space for proper ventilation. Always consult your user manual for the full placement instructions, but this list should help you narrow down your search for the right type of unit.
Built-In Undercounter:
Designated by a "BI" suffix or listed as "built-in" in specifications and description
Also described as "zero clearance" or "undercounter" refrigerators, models that are listed as "built-in capable" are front-breathing, meaning the heat generated by the compressor is pushed out through the front kickplate. As a result, these units can usually be installed under a counter and flush with other cabinetry with minimum space allowance. All Accucold built-in units are also capable of being used freestanding, as they come with fully finished exterior cabinets. Other brands may sometimes make built-in units with unfinished sides, rendering the units usable for built-in installation only.
It is always important to consult your individual user manual to confirm what the proper spacing should be. Even built-in refrigerators often need a small amount of clearance in the rear and sides to prevent heat buildup.
Freestanding Units:
Also described as "counter height" refrigerators, models that are listed for freestanding use are not designed to function properly when installed under counters and flush with cabinetry. Depending on the unit, these models typically need at least 2" to 4" of ventilation on all sides. Always consult your user manual for exact specifications.
Compact Units:
Smaller models are generally designed for freestanding use and should not be enclosed in cubby spaces. It is also recommended to place them on top of counter surfaces, as opposed to the floor. Accucold offers a fan assist option that will help a unit breathe properly when installed in a cabinet, but that is generally not recommended if storing extremely temperature sensitive items. For more information, we encourage you to contact our refrigeration experts at 718-893-3900.
Stocking the Interior
Refrigerators and freezers work at their best when their interiors are stocked. A near-empty refrigerator may experience larger temperature fluctuations than one with load. To avoid irregular temperature, always keep the unit at least 30% full. If you don't necessarily need to use all of your refrigerator space, add some water bottles or gel packs to help stabilize the interior. For freezers, we recommend keeping a few ice packs on hand to ensure a stocked interior. At the same time, do not overfill your unit. Air must be allowed to circulate throughout the interior. If all items are stuffed together with no space between them, temperature may become uneven.
Where you store items inside a unit is also an important consideration when it comes to temperature sensitive materials. Even fan-cooled refrigerators designed to eliminate hot spots will still have slight variations throughout the interior. Remember that the back wall of most refrigerators will generally hold a colder temperature than the front. Basically, the closer an item is to the door, the greater its exposure to ambient temperature when the door is opened. This is one of the reasons the CDC recommends not using refrigerators with door shelves for vaccines or other sensitive contents. Also, the floor of a refrigerator (sometimes inside a lower drawer or crisper) can also experience colder temperatures. For best results, keep the most temperature sensitive materials stored in the middle of your unit.
Testing Temperature
Accucold's MED, MEDDT, and VAC series come fully equipped with an alarm that includes a NIST calibrated temperature readout. Alternatively, most medical refrigerators come standard with or offer the option of a factory installed probe hole that allows users to install their own monitoring equipment. If you are installing your own probes, the probes should be placed in the center of the unit for the most accurate temperature readings. Placing the probes too close to the door or top may yield warmer temperature readings, while colder temperature readings may be detected if the probe is placed towards the back wall or lower section of the unit. Measure from the bottom of the unit to the top, and from the back wall to the door. The midpoint of these measurements is the ideal placement for temperature probes.
Our equipment is designed to provide our customers with years of temperature reliability, but in order to achieve these results, each unit must be used as directed. Always consult your user manual for the most detailed information, and feel free to contact our refrigeration experts to ensure your product is in the right position for its optimum performance.
Popular Medical & Laboratory Refrigerators