General Purpose Refrigerators
All-Refrigerators & Refrigerator-Freezers Ideal for Doctors' Offices, Clinics, & Other Lighter Facility Applications
With a range of choices from countertop to chest style, Accucold carries one of the industry's most complete lines of general purpose refrigeration products. For over 45 years, our selection has been a popular choice for nursing stations, clinics, physical therapy offices, and other settings in need of key product features with reliable temperature conditions.
ADA Compliant Refrigeration
Many government and medical facilities design their counters to comply with ADA guidelines, meaning the counter will be 34" high. Our ADA compliant line of refrigerators are sized between 32" and 32 ½" high, allowing them to be installed underneath these lower counters. Available in 18", 20", and 24" widths, we offer a variety of refrigerators and matching freezers to meet this challenging size demand.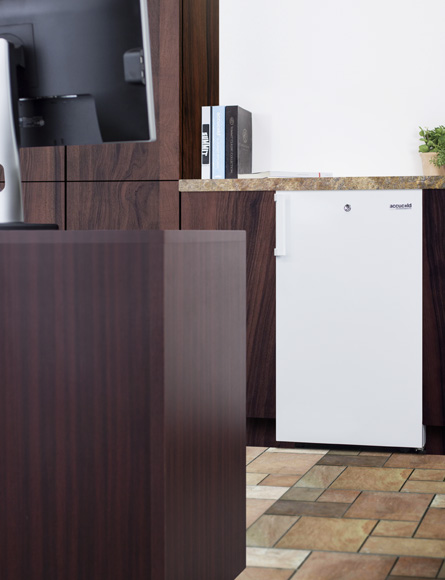 Model FF511LBIADA 20" wide all-refrigerator sized for installation under lower ADA compliant counters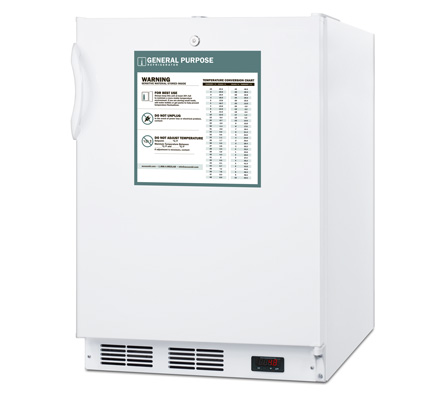 General Purpose Refrigeration
For alternate storage, we offer several general purpose fully constructed form stainless steel. Accucold's general purpose refrigeration line includes a wide range of units fit for a variety of institutional applications.
PLUS2 Series
Models with the "PLUS2" suffix come standard with our lighter grade feature package, with an internal fan, hospital grade cord, and NIST calibrated thermometer with a temperature readout shown to the nearest tenth of a degree.
Choices For Every Customer
Door racks or flat liners? Wire shelves or glass? There are many choices when it comes to refrigeration, and we encourage you to use the filters on the left side of this page to help you locate the right unit for your needs.
Popular General Purpose Refrigerators