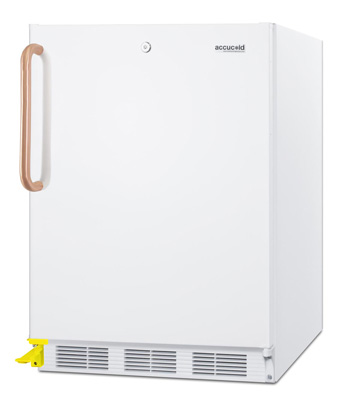 Step-To-Open Door Pedal
Hands-free convenience to eliminate
the spread of germs in busy facilities with one foot!
Ensure a cleaner, safer environment with Accucold's step-to-open door pedal. Its hands-free design provides a more sanitary method of opening appliance doors, while also making it easier for staff to access refrigeration contents with their hands full. This option is spring-loaded to open with a gentle step, and can open the door up to 90º with more force.

Perfect for hospitals, doctors' offices, laboratories, pharmacies, and other environments with busy staff activity and concerns about high touch surfaces."

Step-to-Open Door Pedal Features:
Step-to-open operation provides convenient access to the interior


Hands-free design helps to reduce the spread of germs


Yellow finish stands out to prevent accidents in high-traffic environments


Spring-loaded to open the door up to 90º


Factory-installed for a professional look


Available on a variety of Summit and Accucold units and in stock now!

ADD option "STO" when ordering your equipment, or contact our healthcare product specialists at
1-888-4-MED-LAB to customize the right unit
for your storage needs.










Hands-Free Choices With Step-To-Open Door Pedals