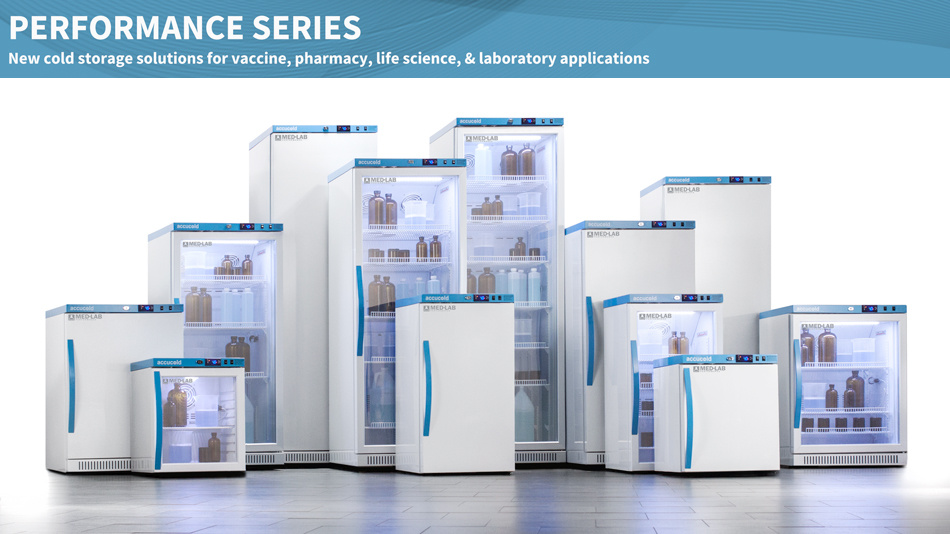 What To Know When Choosing a Medical Refrigerator
When it comes to refrigeration, every facility has its own unique storage needs. Research laboratories may need to hold critical biological samples at a steady temperature or risk compromising a timely study, while some medical clinics may just need to keep ice packs on hand for patients with muscle pain.
Navigating the industry of scientific, medical, and laboratory refrigeration can be a daunting task. For many, the temptation to just purchase an inexpensive "dorm fridge" off the floor of a chain store is an easy solution. That decision, however, can be extremely dangerous and ultimately, far more expensive than investing in a quality equipment specifically engineered for the scientific industry's storage needs. Temperature fluctuation can destroy the effectiveness of vaccines, meaning that a $199 dormitory refrigerator now has a much higher cost when you consider the expenses of the potentially life-saving materials being stored.
All-Refrigerator, All-Freezer, Or Refrigerator-Freezer?
One of the key differences in medical or laboratory refrigeration and household refrigeration comes down to the freezer. While most residential refrigerators include a freezer compartment, the CDC strongly discourages the use of combination refrigerator-freezers for any kind of vaccine storage. The same applies to any sort of laboratory refrigeration needs.
Refrigerator-freezers, whether they are full-sized frost-free units or compact dorm style models, are not designed with an eye towards temperature stability. In studies conducted by the CDC, dorm style units experienced as high as 5ºC temperature fluctuations from the midpoint. These single compressor units also tend to have much wider temperature gradients in the interior, meaning there is simply no "safe" place to keep the more sensitive items. Household refrigerator-freezers rarely allow the user to independently control the temperature of each compartment.
Most manufacturers that specialize in vaccine refrigeration offer all-refrigerators (or freezerless refrigerators) and all-freezers in place of these combination units. While some refrigerator-freezer units are perfectly suitable to keep staff items, beverages, and ice packs, they are not recommended for any kind of vaccine storage. It is also a bad idea to store both staff items (such as lunch and snacks) in the same unit used for vaccines because community refrigerators will undoubtedly experience more traffic. Every time the door is opened, items inside are exposed to ambient temperature. Over time, this can harm interior contents.
If you require both refrigeration and freezer temperatures for storage, consider stackable units or opting for slimmer side-by-side sets. Medical refrigeration is often offered in slimmer sizes to help accommodate these needs.
Size & Capacity
Obviously, you don't want to choose a refrigerator too large for its setting or too small to store what it needs. At the same time, knowing how much storage will be needed is a key factor in choosing a medical refrigerator. Why? Because how much you stock the unit can help or hurt its temperature performance.
All refrigerators, whether storing vaccines or groceries, work best when loaded between 30 and 80%. An empty refrigerator with no load or a mere water bottle will experience large temperature fluctuations from the top of the unit to the bottom. If a unit is stuffed with too much content, air will not circulate properly, leading to cold and hot spots that can damage stored materials.
Always have a realistic estimation of how much capacity is needed when choosing a laboratory refrigerator.
Placement
Most refrigerators and freezers are generally designed for either built-in (or "zero clearance") installation or freestanding use. If a refrigerator is going to be placed under a counter and surrounded by cabinets on either side, it must be designed and constructed for built-in installation. This usually means there is a fan that pushes air out the front (typically located in the kickplate).
Freestanding refrigerators do not usually include exterior fans. As a result, installing one under a counter with little ventilation will compromise its performance, as the side walls or rear can overheat. When choosing a medical refrigerator, always determine how much space you will need around it. Built-in capable units generally come at a higher price, but it's worth the investment if it ultimately leads to safer cold storage in your institution.
Temperature Requirements
While there is no universal temperature setting for all vaccines or biological samples, it is always advised that any kind of medical refrigerator stay within 2 to 8ºC. Within that temperature range, most units will still experience minor temperature swings. For more advanced medical refrigerators, that swing should be no higher than 2ºC outside the thermostat set point.
Medical or laboratory freezers have different requirements depending on what they are storing. Ultra low laboratory freezers are generally classified by their temperature, with units that can reach between -45º and -85ºC. Other temperature classes include -35º, -30º, and -25ºC, while more standard freezers run between -10º and -20ºC. As you can probably imagine, it is vital to know what temperature requirements the items you will be storing have before purchasing a clinical grade freezer. Vaccines, biological samples, plasma, and other sensitive material have unique temperature needs, and it is best to know the details before making a decision.
Shelving
When it comes to the shelving systems inside medical refrigerators, the key is to promote proper airflow. While glass shelves tend to be more popular with residential customers for their easy cleanability, they are not recommended for medical storage because the solid surface can impede cooling circulation. Instead, look for a medical refrigerator that includes wire shelves, or shelves that are perforated with ventilation holes.
Some vaccine refrigerators are built with interior drawers that have solid fronts in order to help shield stored contents from ambient temperature when the door is opened. In that case, the drawers may be constructed from wire or installed with added space in the rear to allow full air circulation. These kinds of bins or baskets are recommended by the CDC to help ensure better organization and air circulation within the pharmacy grade refrigerator.
Another case where medical refrigerators differ from household units can be found in the door shelves, or usual lack thereof. Because door shelves are constantly exposed to ambient temperature, proper medical refrigerators will have flat door liners in place of door racks. General purpose or lighter medical refrigerators sometimes include door racks, but it is never recommended to store any sensitive material in that space. Instead, put water bottles or gel packs on the door shelves to help stabilize interior temperature.
Temperature Monitoring
Once you have selected a refrigerator designed to medical standards, it is important to make sure it is actually performing to these standards. Monitoring the temperature is vital to ensuring that your refrigerator is protecting, and not damaging its contents.
All scientific refrigerators should include a temperature readout on the outside of the unit. Note that this is not the same as having a digital temperature control outside the unit; a thermostat controls the temperature and generally shows a readout of what temperature has been set, while a thermometer will provide a more accurate display of the temperature inside the unit. The CDC recommends using a digital thermometer that has its probe placed in a glycol-filled bottle, as opposed to other fluid-filled bio-safe liquid thermometers, food thermometers, or household mercury thermometers. Certified thermometers will include a Certificate of Traceability to prove that the thermometer has been calibrated to a recognized standard.
For more specific and longer-term temperature monitoring, facilities should record temperature via a data logger. Many state laws now require automated temperature monitoring in hospital refrigeration. Depending on your needs, you can find a variety of temperature loggers that will work with your system. Rather than assigning a staff member to take regular temperature readings from a thermometer, data loggers record interior temperature at user-set time intervals. USB based loggers save the information to a thumb drive and allow users to view the temperature performance via spreadsheets or charts, while stand-alone loggers have smaller storage and record to their own system. Some more advanced data loggers can interact with smart phones or wireless connections and can include temperature alarms and notifications.
Temperature Alerts
While logging temperature is crucial, knowing if and when a refrigerator goes out of its required temperature range is even more vital to acting fast and protecting stored contents, especially when dealing with sensitive, expensive, and potentially life-saving vaccines. Many medical refrigerators will include audio temperature alarms that will sound if the unit rises or falls out of a pre-set temperature range. Depending on your needs, more advanced alarms can notify staff of a temperature issue via text message or email.
Additional Features
Now that we've covered the basics of what you will need in a laboratory refrigerator, here are a few additional features that can help your facility protect its stored items:
Hospital grade cords: Standard refrigerator plugs are usually three-pronged and stronger than smaller electronics, but for added safety, many state and local authorities specify a hospital grade cord with a 'green dot' plug. These cords are designed for more durability, meaning they will not become unplugged from the wall socket easily.
Self-closing doors: The busier a facility, the higher the chance a staff member may walk away from a refrigerator without thinking to check that the door closed properly. Self-closing door mechanisms are one solution to this problem. Leaving a door opened can obviously disrupt the interior temperature and also confuse the defrosting cycle. Self-closing doors help prevent this.
Open door alarms: Another solution to accidental open doors is to have an alarm installed that will sound if the door is left open, usually for over one or two minutes. While most medical refrigerators will already include a temperature alarm, it's certainly better to catch the problem before it disrupts the interior to the point that sounds that alarm.
Locks: Most institutional refrigerators come standard with keyed locks to offer more security to stored items. Some states and governing bodies require certain pharmaceuticals be kept in locking refrigerators, or alternatively, in locking compartments or refrigerator lock boxes located inside the refrigerator. Locks can use a standard key, combination lock, or digital keypad. Some facilities prefer keypad locks or combination locks because staff doesn't have to worry about keeping track of a key. This also makes it easier to handle staff transitions. Instead of redistributing easily misplaced keys, staff can instead change the access code.
Conclusion
As you can see, there are many factors to consider before specifying and choosing the right refrigerator or freezer for your facility. Improper storage conditions can lead to costly losses. Take some time to understand exactly what your storage needs are before committing expensive, potentially life-saving materials to their new home.
Popular Refrigerators & Freezers For Medical, Scientific, & Laboratory Storage