The Who, What, Where, and How: Warming Cabinets and Blanket Warmers
WHAT IS A BLANKET WARMER?

From hospital hallways to spa counters, blanket warmers (also known as "blanket warming cabinets") can be found in a variety of facilities. The terms "blanket warmer" and "blanket warming cabinet" refer to the same equipment: a heated compartment used to keep linens warm. A blanket warmer/warming cabinet can also be referred to as hospital blanket warmer, medical blanket warmer, and blanket warmer cabinet.


BLANKET WARMER OR WARMING CABINET?

Whereas a blanket warmer is specifically designed to hold linens at a warm temperature, the term "warming cabinet" has a broader definition. Warming cabinets may be used to store fluids, including biological samples, surgical IV fluids, and blood. Patient blankets and fluids should never be stored in the same cabinet. Instead, many blanket warmer manufacturers make stackable equipment, making it easier to access a variety of materials while keeping them stored independently.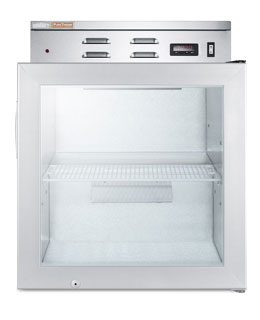 BLANKET WARMER TEMPERATURE GUIDELINES

As with any type of medical equipment, there are guidelines and procedures for using blanket warmers to ensure patient safety. Most hospitals and medical facilities will have their own procedures outlined clearly. Generally, the temperature of warming cabinets should be monitored to ensure the unit is staying within the recommended range. Documenting the temperature at regular intervals is important, and can be done electronically via digital temperature loggers or manually with a written record of the blanket warmer temperature log. Those charged with documenting the temperature of the warming cabinet should have clear access to the recommended temperature range.

Currently, there are no national guidelines for blanket warmers. In 2009, the ECRI Institute issued a hazard report recommending that blankets should not be stored above temperatures of 130°F in order to reduce the risk of patient injury. Staff must also exercise caution when accessing warm blankets. Most blanket warmers feature shelving made out of rubber or other material that does not retain too much heat, helping to protect nurses and other staff members from burning their own hands when reaching inside warm cabinets.


FEATURES OF BLANKET WARMERS

While there are a variety of blanket warmers in the market, most share certain construction and design features. Adjustable shelving is common, as this allows staff to accommodate several rows of blankets rather than stacking the pieces on top of each other. Some blanket warmers include locks to prevent unauthorized access. Temperature control is usually managed with a digital thermostat, which may also be locked from user adjustments.


FACTORS TO CONSIDER WHEN PURCHASING A BLANKET WARMER

Most blanket warmers are available through medical or commercial equipment resellers. While cost is obviously a factor in a buying decision, size will also be a prime consideration. When deciding on a blanket warmer for your facility, always measure the area around the equipment to make sure there is proper clearance. While some blanket warmers are designed for built-in installation, many require a minimum of 4 inches around each side to ensure proper functionality.


DIFFERENT TYPES OF BLANKET WARMERS

Blanket warmers are generally upright front-opening cabinets with a built-in heating device. Solid and glass door versions are available from a variety of equipment manufacturers. Many facilities prefer glass door options, as this keeps the blanket inventory in view at all times. The glass doors used in blanket warmer design are usually double pane tempered glass, with an argon filling to help prevent condensation from fogging up the door.
Interested in learning more?
1-888-4-MED-LAB ext. 509
PureTherm Blanket Warmers