Secure Your Storage Interior & Exterior Locking Options For Accucold Refrigeration Equipment
Eliminate the concerns of lost or copied keys with our keypad locks. Ideal for facilities who value security and staff convenience.

KAL Keyless Access Locks (for Pharma-Vac & Med-Lab Performance Series)
Standard AC or Battery-Powered Keypad Locks (can be added to most solid door units)
Option: KEYPAD
Option: AC KEYPAD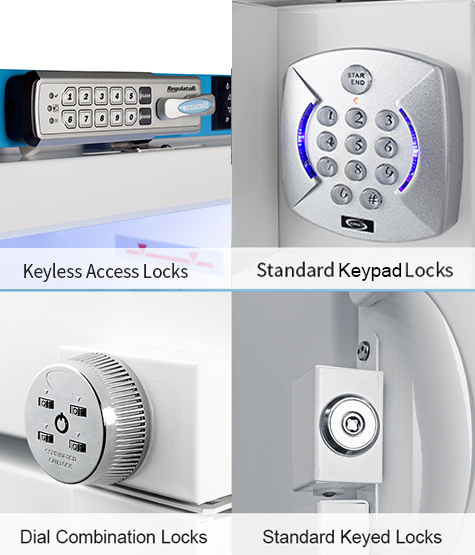 Dial Combination Locks
Our basic combination lock lets your team set a 4-digit combination code. In the event of lost combinations, the lock can be overridden with two included master keys.
This option can be installed on single or 2-door models.
Standard Keyed Locks
All units with locks ship with a set of 2 keys. Most are mounted on the front door, though we do offer a side lock or double side lock for select 2-door units
LockBox
Constructed from heavy gauge steel, our LockBox option is available as a factory-installed or aftermarket option on select Accucold refrigerators. The compartments are secured by our LLF2 combination lock with a key override.
Option: LockBox (details vary by SKU)
Available in white, stainless steel, or with a front window to display stored contents.
Lockers
Individual compartments factory-installed inside select 24" wide units, each independently secured by our LLF2 combination lock to allow private storage in shared refrigerators. Lockers are sized 11" H x 9 ⅜" W.
Option: View our selection or special order on select units by contacting our sales team at 1-888-4-MED-LAB